2022
Past Events in Auckland
December 2022
"Ancient Undersea Volcanoes – Muriwai Downs Hydrogeology"
Presented by Jon Willianson (Principal Hydrogeologist), Jake Scherberg (Senior Hydrogeologist) and Josh Mawer *Senior Hydrologist) at Willianson Water & Land Advisory (WWLA) on 15 December 2022 at the WWLA office10/1 Putaki Drive, Kumeu, Auckland.
Presenters:
Jon Williamson – Principal Hydrogeologist, WWLA  

Jon graduated in 1995 with a M.Sc. Tech. (Hons.1) from The University of Waikato and has been a professional hydrological consultant since, which gives him official "old bugger status".  Jon founded WWLA in 2015 after 20 years with global multi-disciplinary consultancies in Auckland and Sydney.  Jon is a trusted advisor to a diverse range of clients, which has been earned through his expert understanding of differing hydrological system responses, and his ability to effectively communicate complex ideas, options to solve problems, and provision of accurate and timely advice to clients.
Jake Scherberg – Senior Hydrogeologist, WWLA 

Jake is a Senior Hydrogeologist with a M.Sc. in Water Resource Engineering and specialist expertise in numerical modelling to evaluate groundwater, surface water, and vadose zone conditions for projects ranging from farm to basin scale. His work has focused on evaluating hydrological and water use data to better understand observed phenomena and inform water management decision making. He has particular interest in finding the confluence between environmental and economic concerns.
Josh Mawer – Senior Hydrologist, WWLA 

Josh is a Senior Hydrologist who joined WWLA in 2018 with an M.Sc. (Hons. 1) from The University of Waikato. Josh has nine years of professional experience in catchment hydrology, rainfall runoff modelling, coastal and river hydrodynamics, and water quality modelling in New Zealand, Australia and the United Kingdom.  Josh's skills also include environmental and modelling data analysis using programming languages such as Python and Matlab, and Geospatial Information Systems.
Presentation:
The WWLA Team presented the work undertaken to investigate the sustainable yield and groundwater effects of a groundwater take from a buried basalt pillow lava at Muriwai Downs.  The project was part of a wider water effects assessment to support a resource consent application for the partial conversion of the Muriwai Downs property to an International Golf Course, Clubhouse, Sports Academy and Lodge development.  The project is unique in that the US based golf course designer intends to incorporate and showcase more than 30 natural wetlands, a perched dune lake, two spectacular waterfalls, and deep ravines featuring native vegetation including kauri trees into the landscape of the golf course.
The presentation gave an overview of topography, drainage network and special features of the
site, followed by a description of the surface and sub-surface geology, and an outline on the
depositional environment of the ancient undersea volcanoes.  The key features of hydrogeological interest to the project were the intrusive basalt dykes and basalt pillow lavas, which became the groundwater exploration target for the golf course irrigation supply, in conjunction with a stream high flow take to fill a reservoir.  The basaltic pillow lavas are hosted within typical Waitakere and Waitemata Group sedimentary rocks, which underlay consolidated Awhitu and Kariotahi sands.
The WWLA Tean described the work undertaken to address the key project risk, which was the extent and sustainable annual yield volume of the basalt aquifer.  Work undertaken to investigate groundwater production potential included drilling, electrical resistivity tomography (ERT) surveying, ten-day constant rate test pumping, and groundwater modelling.  This was supported by evidence from hydrological surveys of stream flow, wetland water levels and surface water quality.
Figure 1.  ERT survey 3D interpolation of basalt dyke.     Figure 2.  MODFLOW-USG grid.
October 2022
"Central Interceptor-How does groundwater modelling and instrumentation stack up in the real world"
Presented by Hangjian Zhao (Senior Hydrogeologist) at Beca Limited and Peter Yee (Geotechnical and Instrumentation Manager) at Ghella Abergeldie Joint Venture on 12 October 2022 at the Beca office 21 Pitt St, Auckland.
Presenters:
Hangjian Zhao – Senior Hydrogeologist, Beca Limited

After completing graduate study in hydrogeology at University of Wisconsin-Madison,
Hangjian started his career as a hydrogeologist in NZ in 2016. With a background in groundwater modelling and water resources management, Hangjian has undertaken a range of groundwater modelling and assessment to provide technical inputs to inform the management of groundwater resources. His current technical focus is on providing hydrogeological support to infrastructure construction projects across NZ.
Peter Yee – Geotechnical and Instrumentation Manager, Ghella Abergeldie Joint Venture

Peter started his career in 2010, as a Geologist in the underground Coal mines of Central Queensland and completed a Master of Mining Engineering in Mine Geomechanics in 2013 at the University of New South Wales. Peter has worked as a Geotechnical Engineer for a number of underground mines, specialising in underground support systems, pillar design and gained significant experience becoming a Registered Professional Engineer of Queensland (RPEQ) in 2019. He briefly worked in New Zealand on the detailed design for the Huntly Bypass in 2015 and returned to Australia where he worked for Anglo American until 2020. Peter is currently the Geotechnical and Instrumentation and Monitoring Manager for the Central Interceptor.
Presentation: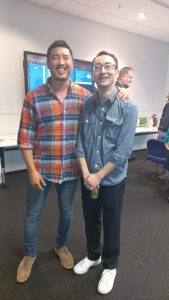 The Central Interceptor team presented on the excavation of the Māngere Pumping Station (MPS) shaft and launch of the TBM within a confinement box at the same location, but in a hydrogeologically controlled environment, as part of constructing Watercare's Central Interceptor. MPS consists of two adjacent and intersecting circular shafts with an approximate depth of 40m.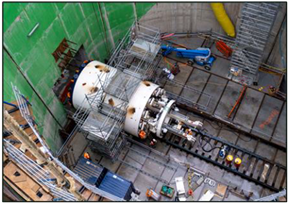 The presentation focused on groundwater modelling in a challenging coastal environment where excavation and tunnelling in the highly permeable Kaawa Formation (and underlying Parnell Grit) increased the potential for large groundwater inflows and drawdown, and the associated risk of environmental effects.
The presentation highlighted the benefit of having a well-established instrumentation and monitoring network in preparation for the TBM launch to verify the effectiveness of using diaphragm walls and pumping wells as groundwater control measures. The talk covered the local geology, groundwater modelling and monitoring and, how they are complementary to each other to better understand the local conditions and therefore to better respond to the construction risks.
Photo 1: Pre-talk drinks and networking.           Photo 2: During the presentation (22 attendees & 7 online)